Now that for many the healthy eating habits of the near year are likely out of the window it's time to get back to cooking proper meals in the kitchen. Even if you are still set in a newer, more beneficial diet mixing things up when it comes to mealtimes is key to keeping things interesting. However, cooking up interesting food requires a quality recipe, ingredients and, crucially, the right equipment.

If you're looking to upgrade your current oven in your home you can't make a much better choice than NEFF. A heritage German brand, they have a long-standing reputation of creating appliances that are designed for those that are passionate about cooking. This includes an outstanding build quality and a plethora of innovative features that are designed to deliver consistent, outstanding results.

In this review, the team at B Grade Domestics run through one of the latest in NEFF's line-up of premium ovens, the B58CT68H0B. You'll learn everything you need to know in terms of the unique features and performance of this model.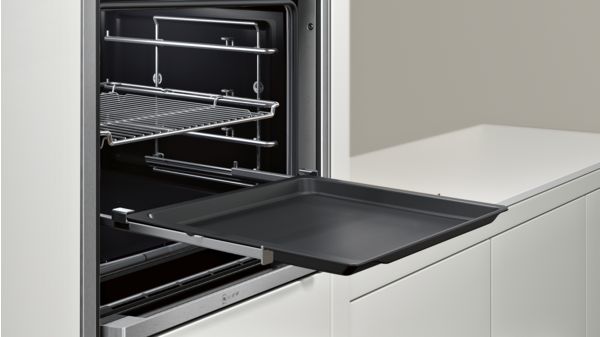 Iconic, Useful Design
To those in the know, a NEFF oven is unmistakable. Those that enjoy watching popular cooking shows like the Great British Bake Off will also have seen the NEFF range on display as the contestants are put through their paces. With the Slide&Hide door, the B58CT68H0B oven is not only eyecatching but also easier and safer to use.
The team of German engineers have created a unique hinge system to house oven door. The rotating handle of the door on this oven means the whole front can seamlessly slide under the main cavity and out of the way. This makes it perfect for adding and removal of larger, more awkward meals. Certainly, if you have slaved away for hours to create a delicious meal you don't want the oven door to hinder you, or worse cause you to drop your food!
Also perfect for checking in on cooking meats and re-basting, the Slide&Hide system is certainly one reason that a NEFF oven should be high up on your list for your next oven.
Connected, Making Cooking Simpler

In the modern home, there is plenty that demands your attention. Even those that love cooking will often get pulled away from the kitchen at mealtimes, this problem is compounded even further during the weekends. The handy Home Connect app allows you to sync up this model with other appliances, start, adjust and end cooking cycles. You can even use the app to diagnose any future maintenance needs, keeping your oven running with top performance at all times.

Connecting the B58CT68H0B is as simple as downloading the Home Connect app on iOS or Android, once you are connected to Wi-Fi you can start controlling your oven at your fingertips.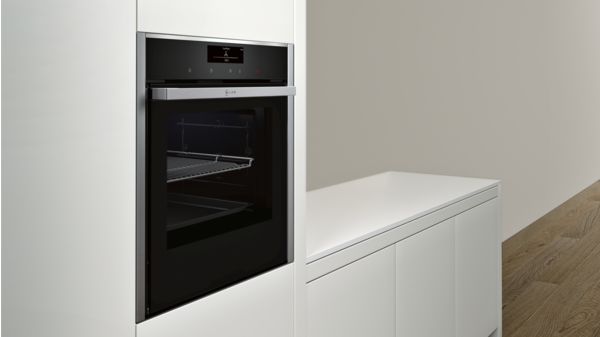 Cooking Versatility
With an impressive 71L capacity this single oven is perfectly suited for all but the biggest households. When cooking for family members every night it's more than likely dietary requirements or fussy eaters mean preparing multiple dishes to keep everyone happy and well-fed. If this juggling of several meals is routine for you then this NEFF oven has the ideal feature for you.
Purpose-built to add much-needed versatility to your everyday mealtimes, the NEFF B5ACM7HN0B comes equipped with the brand's unique hot-air technology, CircoTherm.
When a normal oven heats the main cavity the heat is distributed randomly and without any direction, this means cooking multiple flavours at once will lead to intermingling and affect the end product. With this latest technology, NEFF has all but eliminated the annoyance of flavour transfer.
By directing the heat to the back of the oven, CircoTherm can then direct this energy at the three cooking levels through dedicated vents in the cavity. This creates a hot-air envelope around your food and means air from one dish never touches another. This makes CircoTherm perfect for cooking several different main courses for the family, or for home cooks that want to prepare multiple courses at once.
Of the eight cooking functions in the NEFF B58CT68H0B, three utilise this latest cooking technology. CircoTherm as a standard mode is your go-to for everyday baking and roasting, simply use as your every day for excellent, consistent results. CircoTherm Gentle and Intensive respectively create the perfect ways to cook everything ranging from light, delicate fish to crisp pizzas.
As well as CircoTherm this oven also has a variety of grill modes, to balance tasty results with efficiency by only using the area and strength you need. The NEFF even has a dedicated Bread Baking mode, so achieve the perfect crust on your next home-baked loaf.
When it comes to cooking your Sunday Roast, this model has NEFF's Singlepoint Meatprobe. This means that monitoring of the internal temperature of your meat is made even easier, and takes the guesswork away from getting that perfect finish to your beef.
Cleaning Made Simple

When looking to upgrade your oven at home you may have noticed many modern models offer a dedicated cleaning mode. But how many brands offer you two distinct options when keeping your oven clean and ready to use? This NEFF oven gives you both a deep dive option and an everyday cleaning function.

Pyrolytic cleaning is the go-to after a long week's baking. With baked-in grime on the cavity and base of the oven, restoring the B58CT68H0B to prime performance. Selecting this mode locks the oven and blasts the interior at over 400 degrees, reducing any grim into an ash residue that can simply be wiped away once the cycle has ended.

More daily upkeep is kept simple with EasyClean. Selected on the same Shift Control Colour display, this mode is great for keeping on top of your oven's interior and maintaining a clean interior. To begin all you need to do is add lukewarm water and a few drops of washing up liquid, once done your oven will be ready to cook again.
To find out more about the B58CT68H0B contact us at B Grade Domestics, and for information on our flexible delivery options in the

Gloucester area

. Call us today on 01452541105, or
if you wish to find out more about the
B58CT68H0B Oven
visit our website for more information.